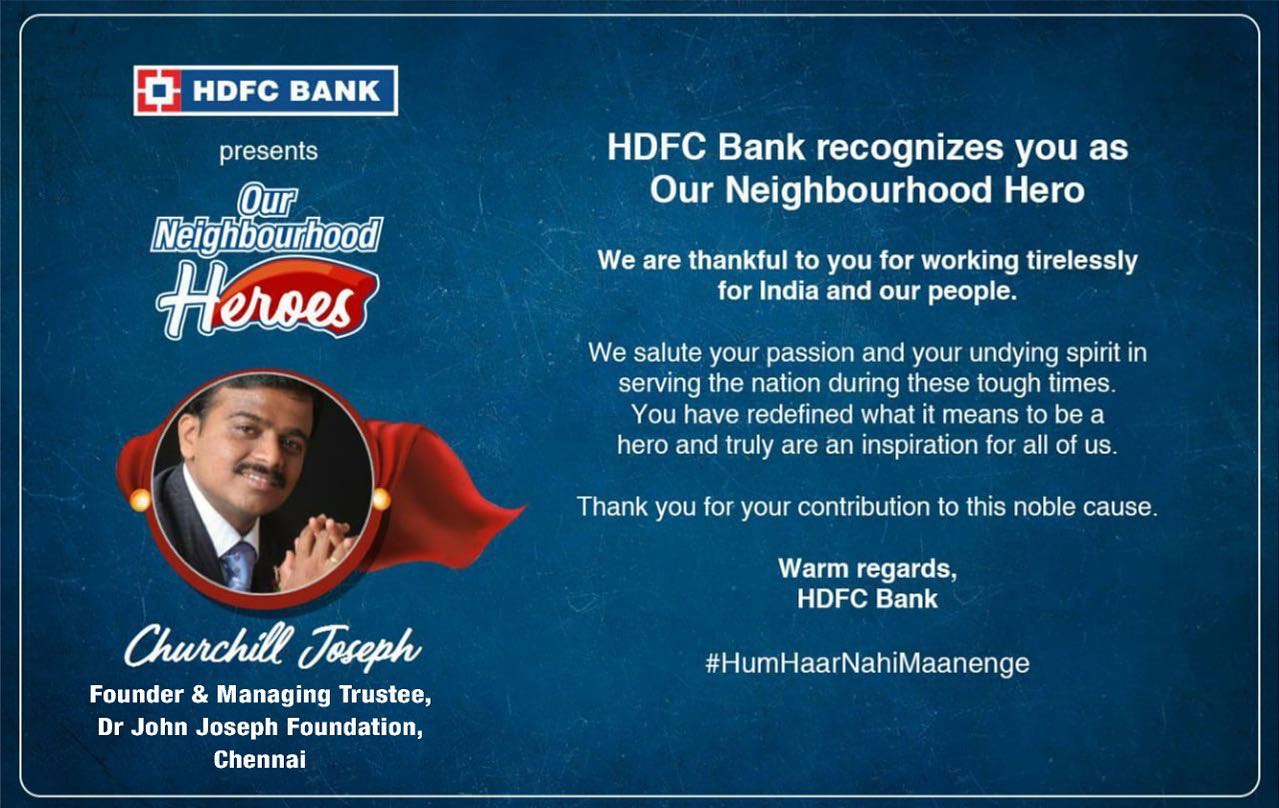 July 2020:
COVID 19 outbreak threatened the health of our neighbors near and far. It is at times like these- testing times-that we recognize we are all in this together. Coronavirus impacts all of us. But love unites us all. Our partners and donors were quick in extending their support to reach out to the less fortunate. Food supply boxes was supplied to nearly 50 families.
HDFC bank, New Avadi Road – Kilpauk, Chennai recognized the work done during this time and appreciated our founder as "Neighborhood Hero".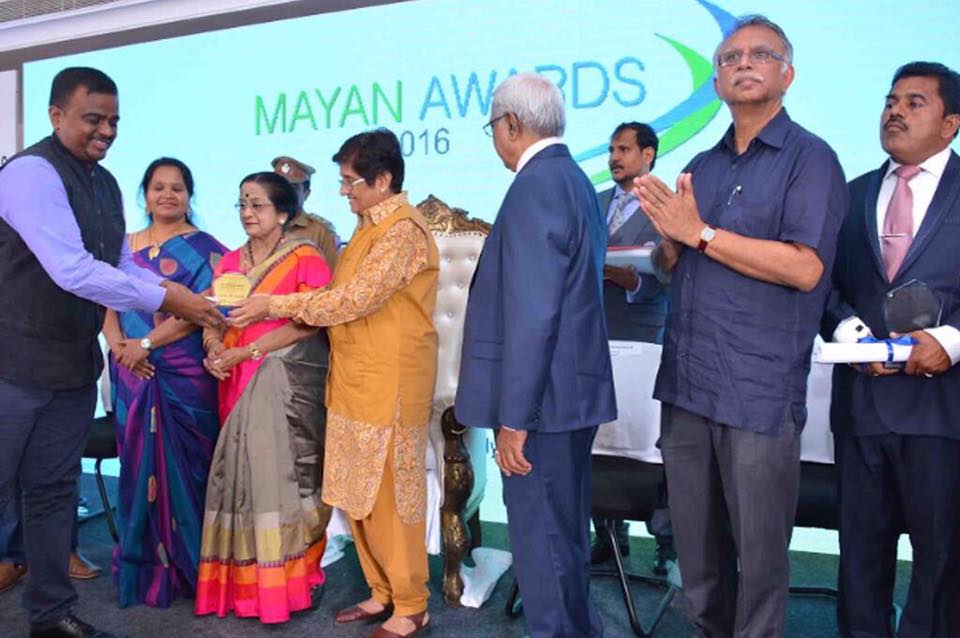 I will Praise You with my whole heart. Psalm 138:1
Being told you are appreciated is one of the simplest and most uplifting things you can hear. It was such a precious moment when I received the Mayan awards for the empowerment of the underprivileged on 22 July 2017.
I least expected this honor of receiving it from the governor of a union territory. Other awardees were those from the medical and education sectors. Vista INDIA has been honoring doctors and Builders every year through Mayan Awards. Social Service Segment was added for the first time. Mrs. Mangai Wilson recommended my name for this award, so I give all credits to her. I wish to dedicate this award to the kids who are a part of Dr. John Joseph Foundation family.
Thank you, so much for supporting me and my dream to save the lives of downtrodden children. Lord, I stand today because of your Grace! Thank you!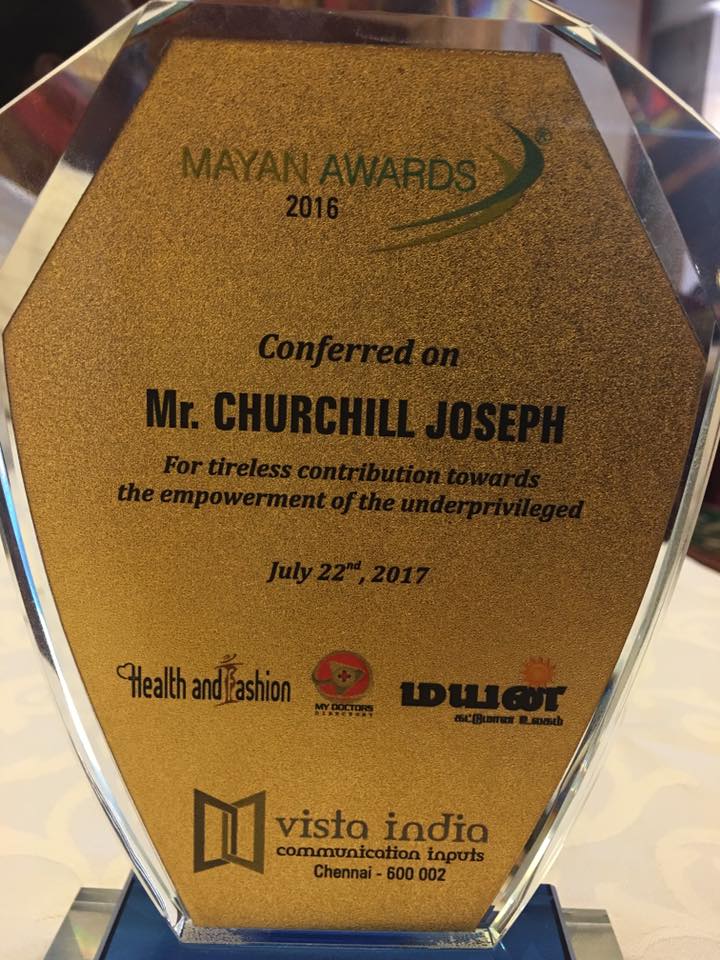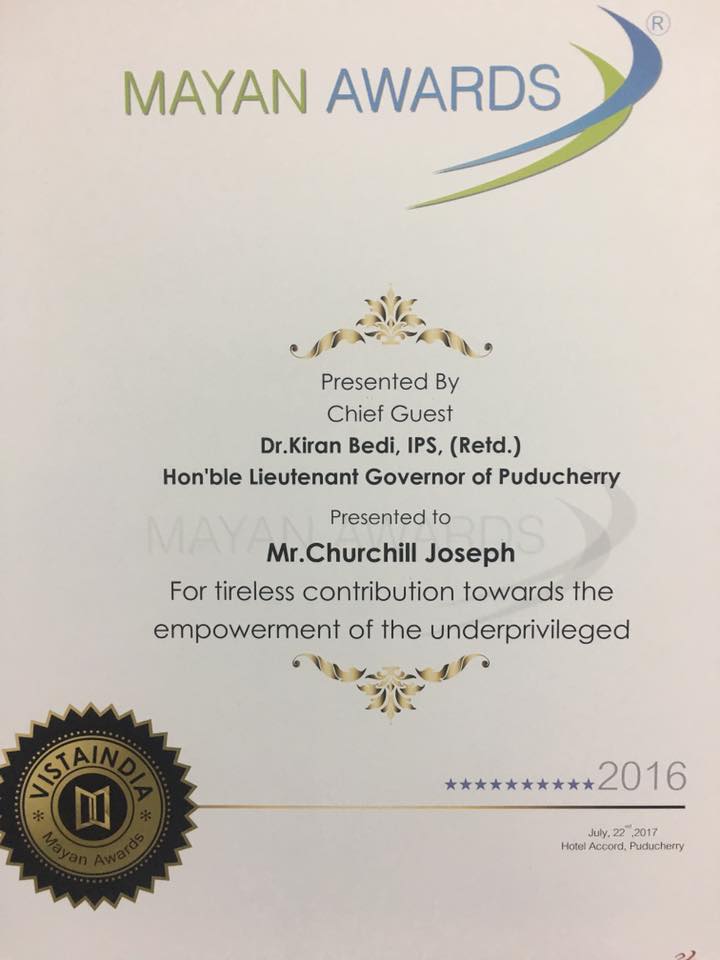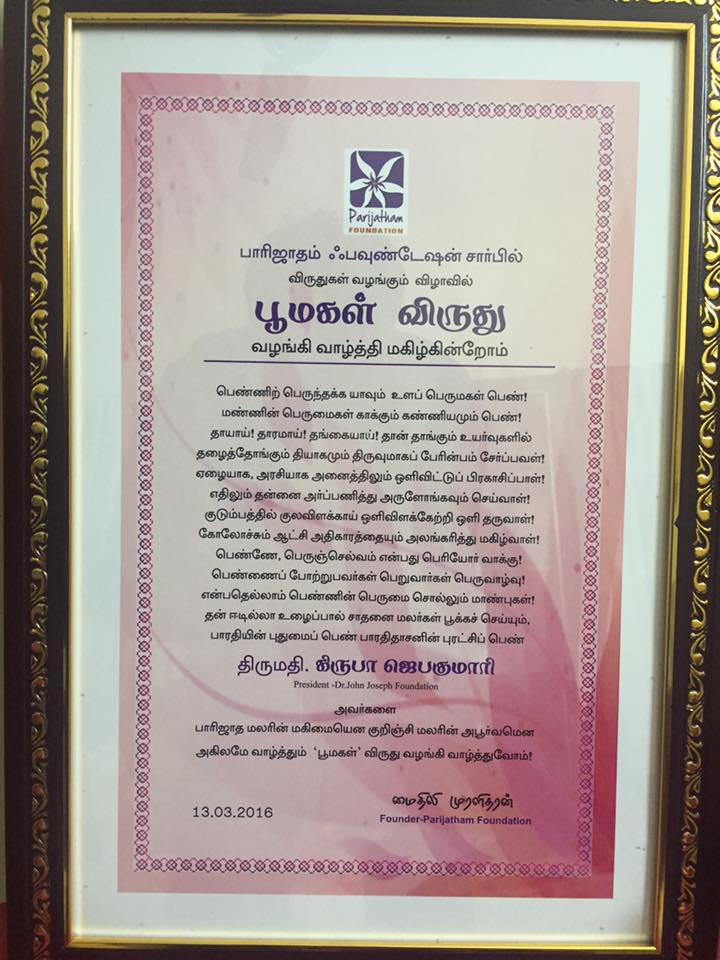 Of all the creations of the Almighty, there is none more beautiful, none more inspiring than a lovely daughter of God. She was beautiful, but not like those girls in the magazines. She was beautiful for the way she thought.
She was beautiful for that sparkle in her eyes when she talked about something she loved. She was beautiful for her ability to make other people smile even when she was sad. No, she wasn't beautiful for something as temporary as her looks. She was beautiful, deep down to her soul. That's my mom- Mrs. Kiruba Jebakumari!
A gracious woman attains honor. Proverbs 11:16.
Though the men of this world forgot her, the Lord remembered her and honored her. My mother was awarded the 'Poomagal Award' by Parijatham Foundation on 13 March 2016, which was conducted to honor women on account of women's day celebrations. She was not born with a silver spoon, but God lifted her up to receive this award for all the sacrifices she made throughout her life. Stranded on the streets of Chennai with a 6-month-old baby, she was determined to live. Not just live but to live a righteous life. The true living God was by her side, guided all her steps, brought her under the wings of a Good Samaritan, Dr. John Joseph. He was the guardian and guiding angel to my mom and me until he went to his heavenly abode. Today my mother stands with me in all my endeavors. She is the President of Dr. John Joseph Foundation which was started in November 2008. When she was young she mothered only me, today she is a mother to many of the children who come under our wings. Mom, we are proud of you.
The world needs you. Your abiding trust in God and unfailing devotion to things of the Spirit have always been an anchor when the wind and the waves of life were fiercest. Mom, you are beautiful, you are worthy, you are important, you are special, you are unique, you are wonderful, you are talented and you are irreplaceable! Congratulations to my dear mom! Thank you, Prof Mangai Wilson.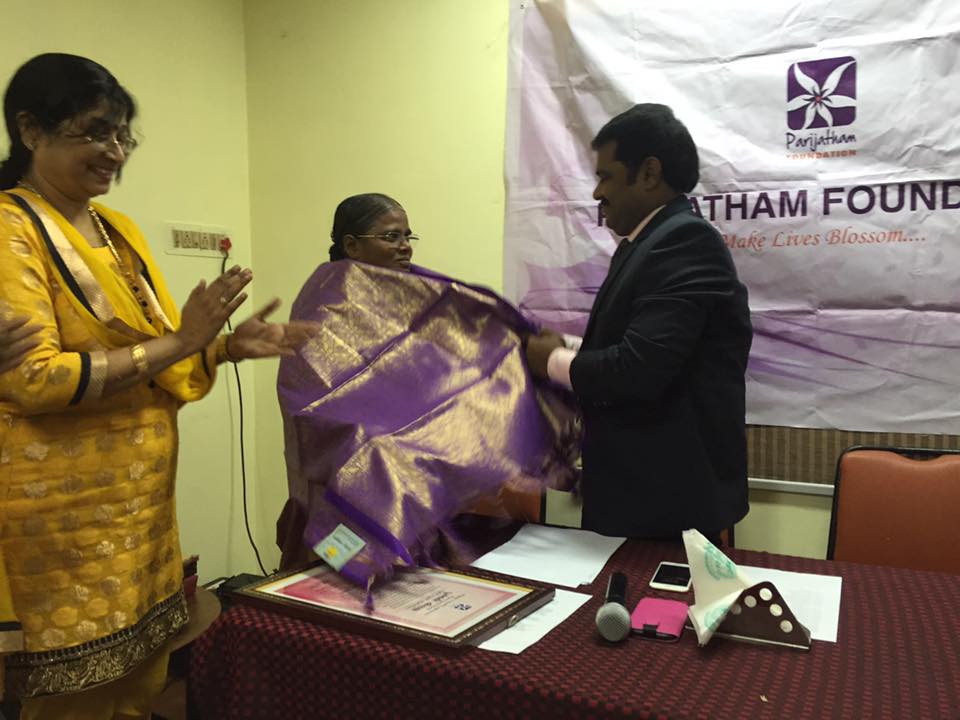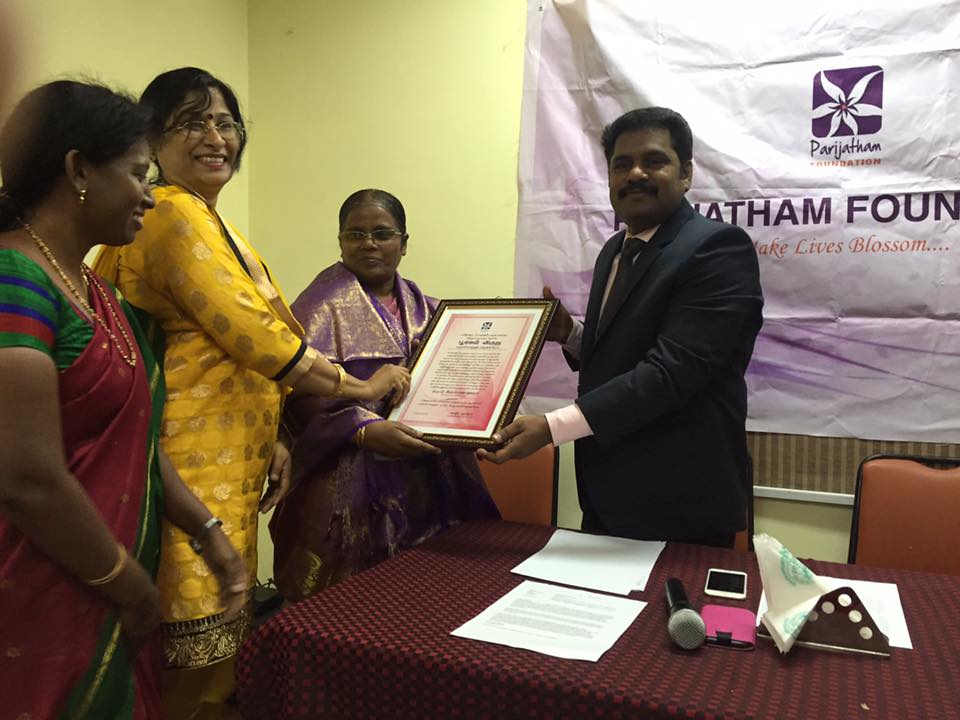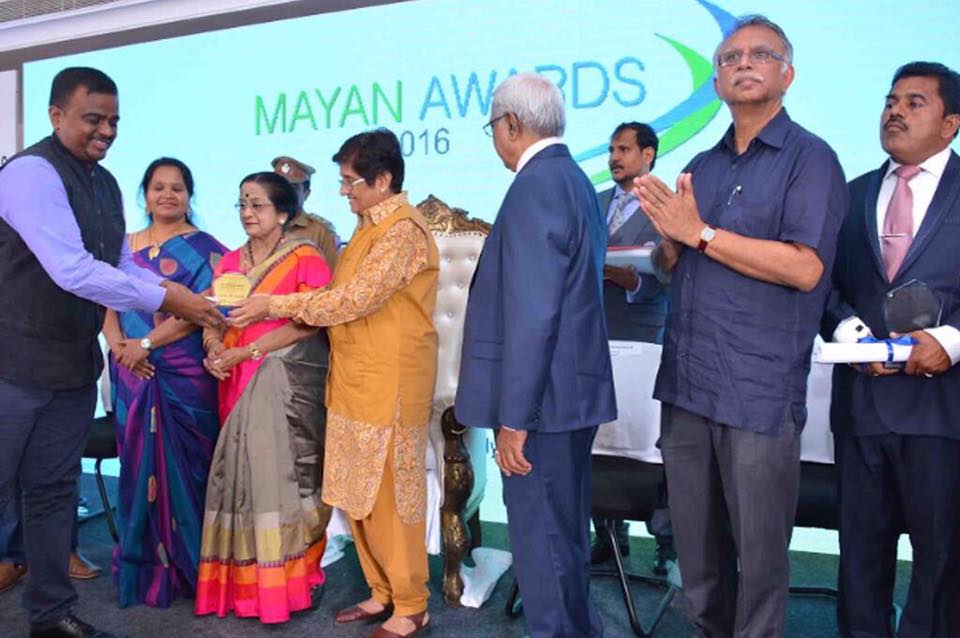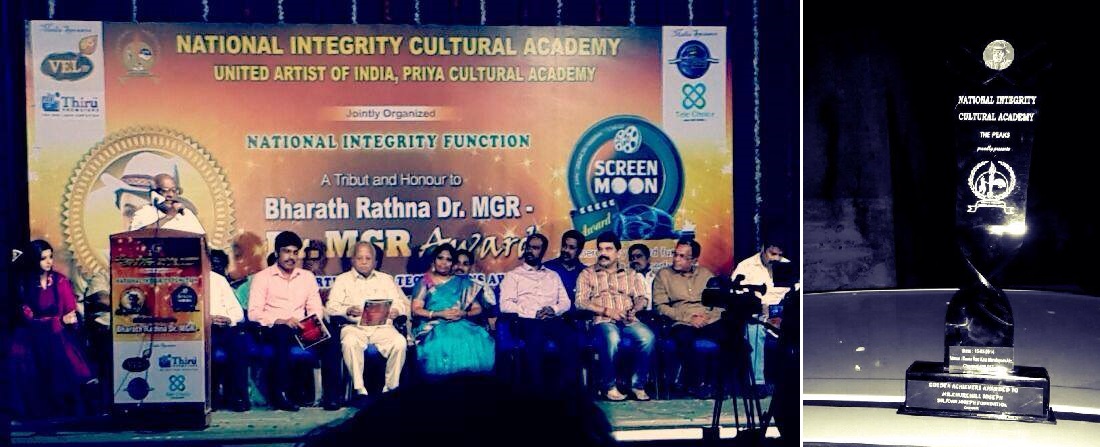 Birthday surprise: National Integrated Cultural Academy, The Peaks cultural academy and United Artist of India jointly organized National Integrity program. A tribute and honour to Bharath Rathna Dr M.G.Ramachandran. This was a program to recognize star performers of 2013 – Film Industry and Golden achievers award(2013). Glad to receive Golden Achievers award for social service from Justice Vallinayagam, Madras High Court. I thank God for this honour on my birthday. Felt really happy to get this award for Dr John Joseph Foundation. Glory to God!!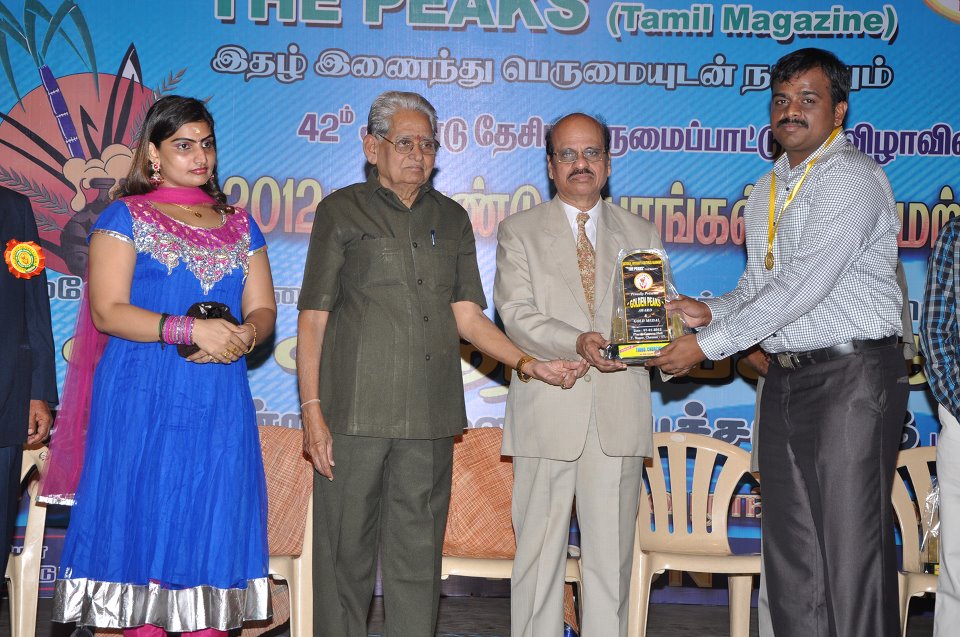 National Integrated Cultural Academy and the Peaks – Tamil Magazine presented a gold medal and an award to me for service to the less fortunate children in Tamil Nadu. It was such an amazing moment!!! My thanks to all the donors and wellwishers for your support. thank you and God bless…..